September is Pediatric Cancer Awareness Month
The Jennifer Hollister Group has been personally effected by this tragic disease. Jennifer Hollister and Diane Lebo both had children with brain tumors. Diane's son is now a healthy, successful college student. Unfortunately, Brooke was not so lucky. Brooke, passed away at the tender age of two. Childhood cancer is the #1 cause of death in kids in the US.
Brooke Hollister was a mesmerizing, captivating child. She had a force field that surrounded her. Whirling colors of love, warmth, grace and strength. People gravitated to her.
One day, her mother recalls, Brooke heard a child crying in the hospital room next door. She commented, "The baby is crying." Her mother agreed and tried to calm Brooke. Brooke became very sad and repeatedly said, "Help the baby." While Jennifer couldn't know how they could help, she knew that Brooke was compelled to do something. So they went and knocked on the door. A young woman was there with her toddler just days after being diagnosed with leukemia. They were scared and alone. What happened next was the amazing. Within minutes, Jordan stopped crying. She had a new friend. Brooke was able to help.

Brooke Hollister
Brooke's family continues her spirit of helping through charity golf outings and volunteering. Laine Hollister, Brooke's sister, is making her own strides to crush cancer. She decided to be part of the Alex's lemonade vision. She is working to raise $8,000.00 through the Alex's Lemonade Stand Foundation. Meeting this goal would fund an entire month of cancer research! Sadly, pediatric cancer research is vastly and consistently underfunded, even with incredible fund raising efforts like Alex's.
To learn more or donate, visit --www.alexslemonade.org/mypage/1348995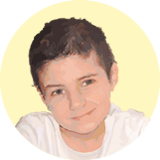 Alexandra Scott
Alex was only four years old when she came up with the idea to raise money through a lemonade stand to help children with cancer. This type of empathy, at such a young age, must've come from her seeing suffering through the eyes of other children. Her vision to help resonated with the nation. By the time she was eight years old, the age when she passed on, she had raised a million dollars. Today, ALSF has raised over $150 Million.
It took just one person, Alex, with a big vision to ignite the fire. It takes the rest of us to carry that torch. Laine, ironically, means lighted path. Brooke, a toddler, babbling and gentle. So innocent and pure.
Let the love shine through. Thank you for supporting a truly worthy cause that is very near to all of us. Your generousity will be the cure.